Avery Bly (Christine Cummings) works as an air traffic reporter in the Bay Area. Pride has made her life a mess. She has no compassion for anyone: her estranged husband (Matthew Anderson); a horrible date (Clayton Steacker); a smarmy pick-up artist (Joe Howells); her fast-food gorging roommate (Kaliko Kauahi); her boss (Matt Stevens); and her helicopter pilot (Jason Rogel). Then, in a come to Jesus moment, the 1989 Loma Prieta earthquake strikes at the moment her brother Gerard (Ian Jensen) dies from AIDS. In the seismic aftermath of the earthquake and her loss, she makes amends for her aloofness. Directed by Amy Louise Sebelius for the Garage Theatre in collision with Alive Theatre, Wendy Macleod's morality play Sin shows how a late arrival to self-awareness, coupled with self-forgiveness, is better than a lifetime of ignorance.
While the concept and plotting are good (and the time she spends in the helicopter, reporting on the human comedy below, provides a great metaphor for her aloofness), the script doesn't hold together. There's a problem introduced — her pride; there's the way it manifests itself through her encounters with those around her — she's an unpleasant, judgmental person; and there's its evolution into compassion. But all the in-between bits seem caricatured, rushed, not fully developed. We can understand how pride would cause Avery to careen from one problem to the other. What's more difficult to swallow is that each of these people in her life represents a sin. The roommate — gluttony; the Man — lust; the colleague — covetousness; the husband — sloth, though alcoholism embodied as sloth wears thin. Because a large part of the production consists of trying to identify and then check off the sin that each person embodies, the production functions more like a Where's Waldo version of a morality play than a flesh-and-bone drama. Though we can laud McLeod's attempt to update a 15th century art form, its clunkiness makes the experience of the production not a little mechanical, not a little predictable, and, contrary to the final intended message, not a little ham-fisted.
Though the script leaves much to be desired, you can appreciate the production for its acting. Especially that of Cummings. She runs the gamut of emotions here, from glacial and clueless, where every sign of human frailty signifies a deal breaker, to impassioned and committed, when, after she loses her brother, she resolves to do anything to get home to check on Michael's condition. Her transformation at the end is poignant, but you have to wonder if it was due to the oomph that Cummings brought to her inadequately scripted odyssey through pride.
Though the message is welcome, of course, it's never too late to make amends, the story's formulaic recitation of metaphoric sins makes each of Avery's encounters read more like sit-com sketches than pieces in a puzzle. You wonder whether a sin of omissionwould have better served the production. Fewer characters/sins would allow for a more developed examination of her relationship with Anderson's wonderfully portrayed Michael or Jensen's equally wonderful portrayal of Gerard.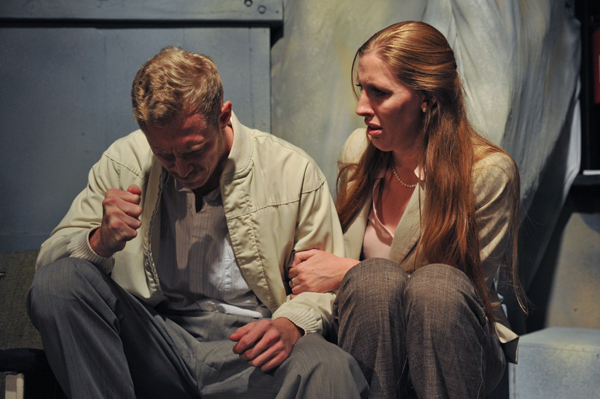 Performances are 8pm, Thursday, Friday, & Saturday. The show runs until November 2. Tickets are $15-18. The theatre is located at 251 E. 7th Street, Long Beach, Ca 90802. For more information, call (866) 811-4111 or visit the garagetheatre.org.