Marc Masterson's direction of Arthur Miller's "Death of a Salesman" at South Coast Rep's Segerstrom Stage is more than a good sell, it's a gift, a powerful story told with understatement, without a trace of histrionic excess. He stages it like a Shakespeare tragedy, an exquisitely acted, psychologically nuanced tragedy where all but one of the family members have bought into the patriarch's delusion of success without realizing that it's a sham.
Masterson phases the production as a slow motion nosedive into disaster. That's what makes it resonate with such force: it's not a matter of things getting better, it's more of a matter of things getting worse, ever so slowly. If it sounds familiar it's because it mirrors our own Great Recession's American Dream-shattering illusion of secure jobs and pension plans. The salesman's story is our story; we may not be Lears but, for better or worse, we are kings of our house. Of course, that doesn't guarantee that we will act in a regal manner.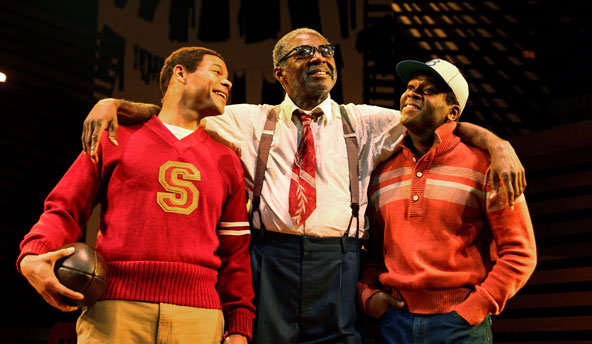 The main conflict of this Fall of the House of Loman is not fought by Willy Loman (Charles Robinson) with his destiny - that's a foregone conclusion. Nor is it with his adventurous, wealthy, and now-gone brother Ben (Gregg Daniel), his nurturing wife, Linda (Kim Staunton), or his son Happy, (Larry Bates). It's between Willy and his son, Biff (Chris Butler), as much a loser (without the consolation of a family) as his father but who has the wherewithal (hence, the lackadaisical bitterness) to acknowledge it. Only he sees the plight of his dysfunctional family for what it is - a cardboard cut out disgrace, cloistered nicely by Michael B. Raiford's set design.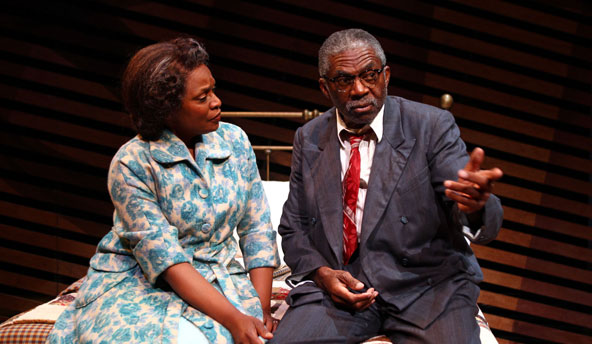 Masterson understands that Willy is Everyman, living his life of quiet desperation. As a result, the performances are matter-of-fact and low key, making the production a poignant, excruciating journey into entropy. Staunton plays Linda with great conviction. Lambent like a small fire burning on a hearth, she metes out loyalty, devotion and care. You feel the most for her because she continues to believe in her husband in spite of his boorish behavior and humiliating inability to bring home the bacon. Her iconic "Attention must be paid" line, delivered out of character in anger to her two sons, is memorable. There's a reason Happy has that name. Bates makes him a grown kid, charged with sensuality and yet seemingly (or at least relatively) oblivious to what's going on around him. It keeps him out of the range of the firefight waged by his father and brother.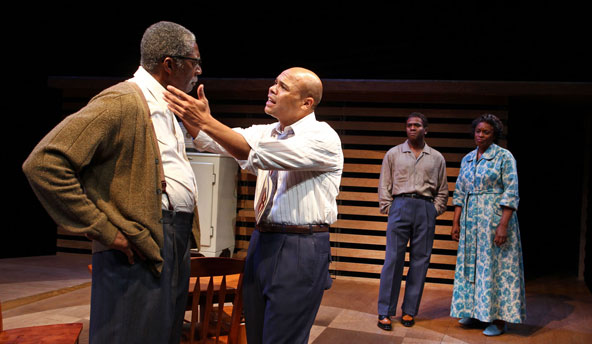 Robinson's Willy and Butler's Biff shine as two men who have rejected reality, though for different reasons. The sadness that is Willy's accrues over the years. He won't believe that time has passed him by. You can feel the heaviness in Robinson's voice and stride, both of which change dramatically from flashbacks that showed him as a happy, upright, and earnest breadwinner. Whether or not he actually believed in what he sold is beside the point: he had charisma and pride, he believed he was going places, which should have served him well in his business calls. But it didn't. Butler's Biff is but half the age of his father, so, on the surface, he's not as bedraggled and bedeviled by life. While his carriage and posture don't yet show the ravages of time, his facial expressions, voice, and movement suggest what could be violence and rage, if he could but be bothered to getting around to expressing them. Time can't pass him by because he never got on the track to slow down in the first place.
Performances are 7:30, Sunday, Tuesday, and Wednesday (excluding Sunday, September 29); 8pm, Thursday, Friday, and Saturday (excluding Saturday, September 21); and 2:30, Saturday and Sunday (excluding Saturday, September 21). The show runs until September 29. Tickets are $22 - $60. The Segerstrom Theatre is located at 655 Town Center Drive, Costa Mesa. For information call (714) 708-5555 or visit www.scr.org.