Photos courtesy of Mickey Elliot.
The Food Network features cooking royalty (read: celebrities), with kitchens to die for, prep work that appears by magic, and time condensed so that three-hour ragus are done, from start to finish, in thirty seconds. Cable Access TV, on the other hand, presents "The Kitchen Witches" Izzy Lomax (Adriana Bate) and Dolly Biddle (Madeleine Drake), with shows of dubious production values that are more like outtakes than polished footage. Mortal enemies from way back, the two women share a TV kitchen, a lot of baggage, and a long-held secret. Written by Caroline Smith and directed by C. Ryanne Laratonda for Little Fish Theatre, it's a hilarious and touching story of reconciliation, renewal, and redemption.
The story begins with the last episode of Dolly's Russian-themed show. Drake's Dolly is boozy and loquacious. She affects a captivatingly fake Mother Russia persona as she strays off-script as the ever-running hand-help camera (Rob the Camera Guy -Christopher Bunyi) captures every fist-clenching miscue, to the distress of her son Stephen Biddle (Glen Alexander), the show's producer (yes, he shares a last name with Dolly). Fellow chef Izzy makes an unscheduled appearance to mock the show's demise. After the funny flameout finale, the network, sensing a ratings bonanza, decides to let them co-host a new cooking show. Mayhem ensues as the divas bicker, duel, and engage in gamesmanship. The result is a show that is short on cooking and long on reality show shenanigans, funny to us, infuriating to Stephen, and exasperating to Dolly and Izzy.
We learn the source of the enmity: 30 years before, Izzy stole Dolly's husband. By the end, we also learn a deeper, darker secret. Leavening this secret is a lot of comedy: battles for dressing rooms, a missing heirloom ring (and lordy, how it was recovered!), an Iron Chef-like cook-off, and non-stop back and forth insults.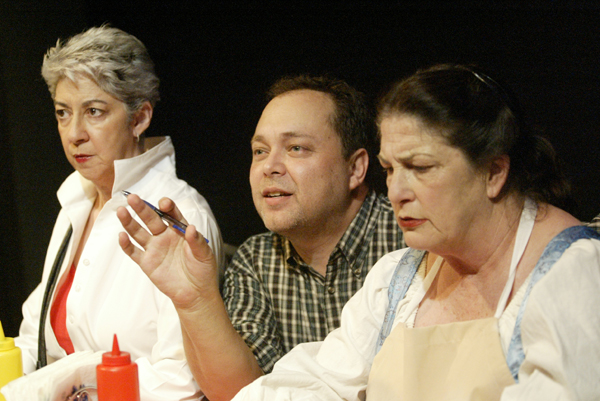 The Little Fish's black box theatre provides the perfect setting for the story. We are the audience for the cooking show as well as for the production itself. The kitchen/stage is cramped and hardly cutting edge by way of appliances. Yes, this is the cable access we know and love.
The performances are five star. Drake's Dolly and Bate's Izzy form the odd couple of live, unedited cooking shows. Perhaps that was what the network (and Laratonda) saw: the sum of their hilarious parts is greater than their flawed wholes. The former is loud, gung-ho and raucous. A tornado of activity, she wears her heart on her sleeve but, as the story unfolds, you can see the pain on her face. The latter is more Machiavellian and scheming, relatively silent, equally deadly and, when the jig is up, sad at what happened decades before.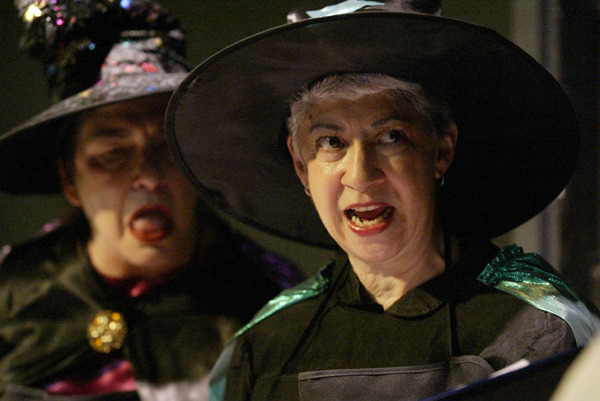 "Kitchen Witches" is a comfort food production, a human comedy of frailty, forgiveness, and letting bygones be bygones. It's like that Mason jar of sour dough starter you keep in the fridge for decades. Opened, it may smell like hell, but oh what wondrous creations it can make.
Performances are 8pm Friday & Saturday August 2, 3, 9, 10, 23, 24, 30, and 31; 8pm Wednesday August 14; 8pm Thursday August 15 and 29; and 2pm Sunday August 25. The show runs until August 31. Tickets are $20 - $27. The Theatre is located at 777 Centre Street, San Pedro 90731. For more information call (310) 512-6030 or visit www.littlefishtheatre.org.