What remains if one finds oneself in a Los Angeles that's in shambles, post-apocalyptic or else in the process of apocalypse, with threats unseen but murderous, with nothing but whomever you're next to, buttressed by fragile belief systems? That's the premise of the powerfully weird, strangely possible "The Boneyard & Talisman," two short pieces written by Tim McNeill and directed by David Fofi.
Though they're two separate productions, they merge into one chilling tale of rudderless isolation and inevitable nowhereness, transitioned via nice choreography by Chris-Gerard Hayward and performed by soon-to-be corpses Don Colliver, Lena Enck, Frank Merino, Dah-uh Morrow, and Brice Pendergraff.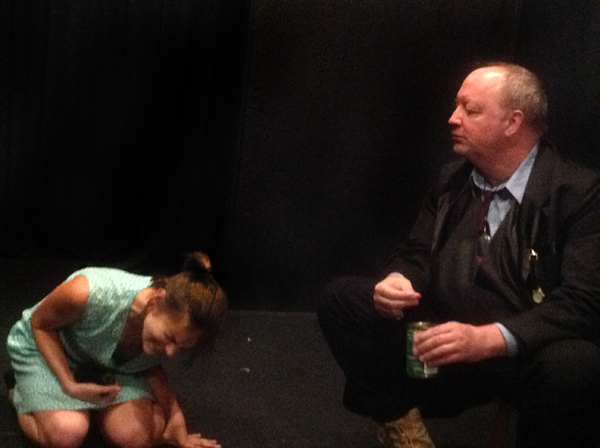 The settings are the same, viz, a graveyard in which all hell is breaking loose, all bets are off, it's every person for him- or herself. The hows and whys of the invisible but not silent slaughter matter none. The set is as sparse as the prospects for the two story's protagonists. The staged minimalness gives us a chance to zero in on the nuances of the acting, of which there are tons.
In "The Boneyard," Corrine (Kate Huffman) watches Albert (Joseph Tomasini) dig up the coffin of his father. Yes, it's noxious when he opens the coffin but then so is the world they inhabit.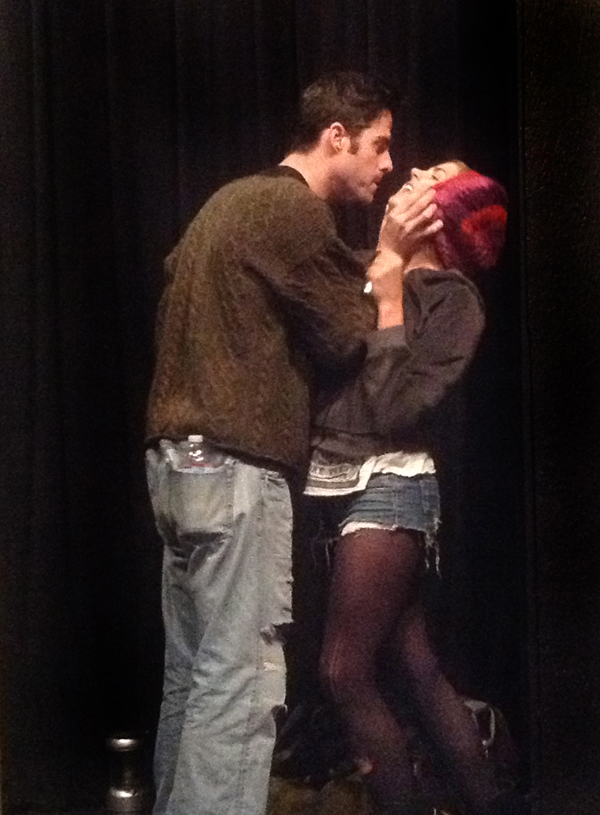 Corrine and Albert are both junky, scruffy, and fringe as fringe can be. Tomasini is terse and aerobic. For him the action of digging is symbolic. A search for something prior, perhaps, something real. Huffman is chatty, always in motion. I never thought I'd see these two words paired but...she's a ditzy junkie (Myrna Loy, Girl, Interrupted). Strung out, her heart (and God knows what else) on her sleeve, she utters whatever pops into her head. She serves as a sweet counterpart to Tomasini's chain gang grunts. He's focused entirely on the task at hand. Pure adrenal reaction, she's focused on anything but.
Really, though, the only thing they have, the only thing that's tangible, is each other. Given their circumstances, that's saying something. You don't sense a past relationship; their coupling seems more pharmaceutical than romantic. And yet, when he unceremoniously bids her to leave, she comes to her senses and realizes the consequences of the request. You get the feeling that, for both of them, the only thing that matters, from that moment on, is the fact that they are familiar to each other; that, if there is to be a future, better to pass it with the devil you know than the one you don't.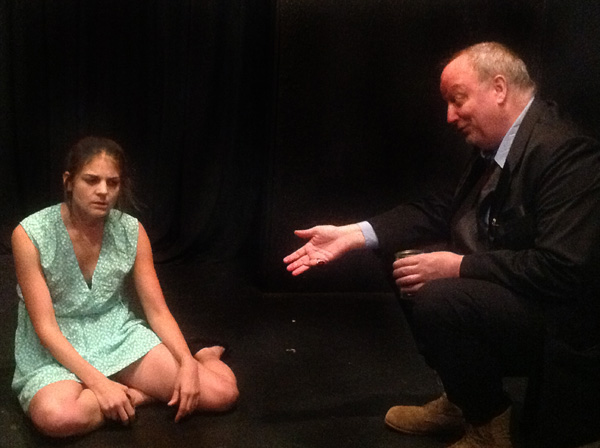 "Talisman" could very well be the same besieged graveyard, albeit a different site. Larry (McNeil) also digs up a coffin. His purpose is more pragmatic, less nostalgic than Albert's. A former Wall Street banker, he's a scavenger, perhaps the only difference that he now robs with a shovel instead of a pen or a computer mouse. Natalie (Huffman) accompanies him. In a spectacular sense of the word, McNeil's Larry is creepy. He's just not a grave robber, he's also batshit crazy, prancing around the stage as if singing an aria from Arnold Schonberg's atonal opera, "Pierrot Lunaire." (If the reference isn't close at hand, think "They're Coming To Take Me Away," a song Dr. Demento used to feature on his eponymous radio show). Huffman's Natalie seems, relatively speaking, just shell struck, not an evil bone in her body, as marmoreal and troubled as the ballerina in "Black Swan." Physical traits matter much here. McNeil is burly, threatening while Huffman is fey and spritely, made more so by the penumbral atmosphere she inhabits.
As with "The Boneyard," the two characters are reduced to nothing. Here, though, Natalie lugs around a huge emerald the same way that Linus lugged around his security blanket. An emerald? Yeah, a gift from George Lucas. George Lucas? Yeah, but it would be a shame to reveal doe-eyed, gamine Natalie's real life last name. Of course, wanker Larry lets her starve to death because, sensing the symbolic security of an inedible emerald was more important than life-sustaining food, she wouldn't trade one for the other.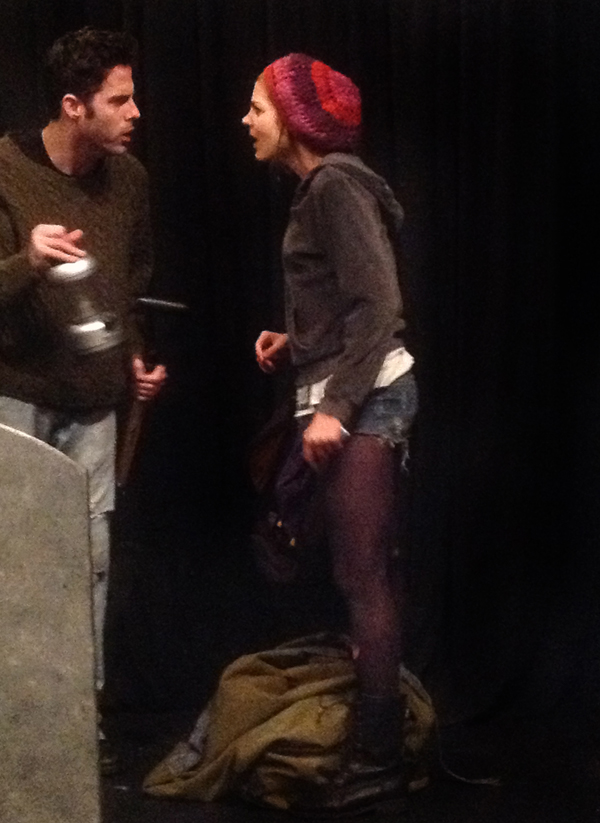 In both productions, Fofi's direction is invisible, which means, it's fantastic. Tomasini, McNeil and, especially Huffman don't just enact their roles, they devour and digest them. Tomasini and McNeil are larger than life, fully engaged with what's left of a crumbling world. Huffman, in both her roles, isn't. She's a gritty nymph in an urban forest without resort to the consolation of a protecting deity. In their own, idiosyncratic way, both productions are as enchanting as Shakespeare's "A Midsummer Night's Dream," if the bard's story was cast in a 2003 Fallujah and scored by Brian Eno. In a world of who-knows-what-the-hell-is-coming, "The Boneyard and Talisman" point to a possible scenario: embrace an archetype - love, greed, and everything else in between - and pray for the best.
The final performance is tomorrow, 4pm, Saturday June 29th. Tickets are $15. The Theatre is located at 6320 Santa Monica Boulevard. For more information please visit http://www.hollywoodfringe.org/projects/1389