Paul Darrigo's "Love Actually Isn't," written by Dan Johnson and staged at the Complex's Flight Theatre as part of the 2013 Hollywood Fringe Festival, is the romantic equivalent of the economic 99%, those unhappy-never-enders who barely if ever are touched with the kind of love that makes you read and re-read Romeo and Juliet and watch and re-watch Fred Astaire and Ginger Rogers movies. In its quiet, competent way, it's a reassuring production: nobly common, uniquely pervasive and, whether we care to admit it or not, hardwired into our DNA for emotional if not reproductive purposes.
Like the weather, love is something to talk about. And that's what these four one-act plays feel like, conversations that make you realize that love, far from being a many splendored thing, is less a destination and more a rutted journey in which the race goes not to the swift. It's nerve-wracking, not a little desperate, hilarious in spite of itself, and something that just doesn't go away, even if it wasn't exactly love to begin with.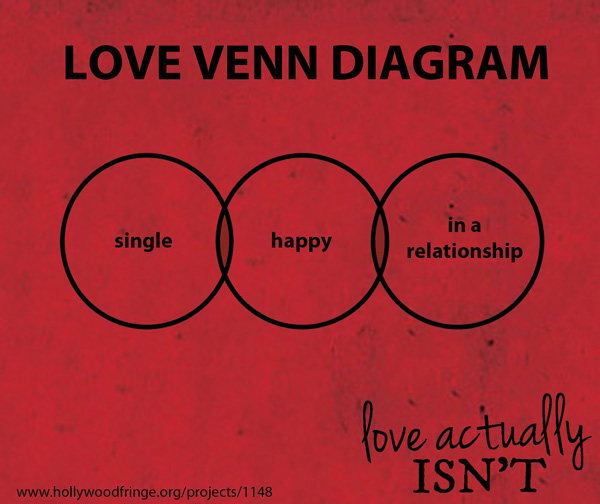 Each vignette clocks in at about fifteen minutes, which provides you with just enough time to identify yourself in one of the protagonist roles but not so long as to give yourself a chance to analyze it (and yourself...and your friends...and yourself again) to death. Well scripted, acted, and directed, each piece describes the beginning, the renaissance, and heck, even the possibility of love. The stories feel familiar, which may make them seem predictable; but that's only because they are familiar.
"Cold Feet" features Lisa Arturo as Sarah. She has second thoughts about her pending marriage, made more difficult by her father's funeral the day prior to her wedding. Nicely complementing Arturo's Sarah is her mother, Dani Thompson's Jean. While Sarah has lost a father, Jean has lost a husband and so, what better person to turn to for advice at this, the plunge into matrimony? The advice, while not sugar coated (and certainly not what Sarah wants to hear), is nonetheless sensible; and it probably is the best advice a mother could give a daughter.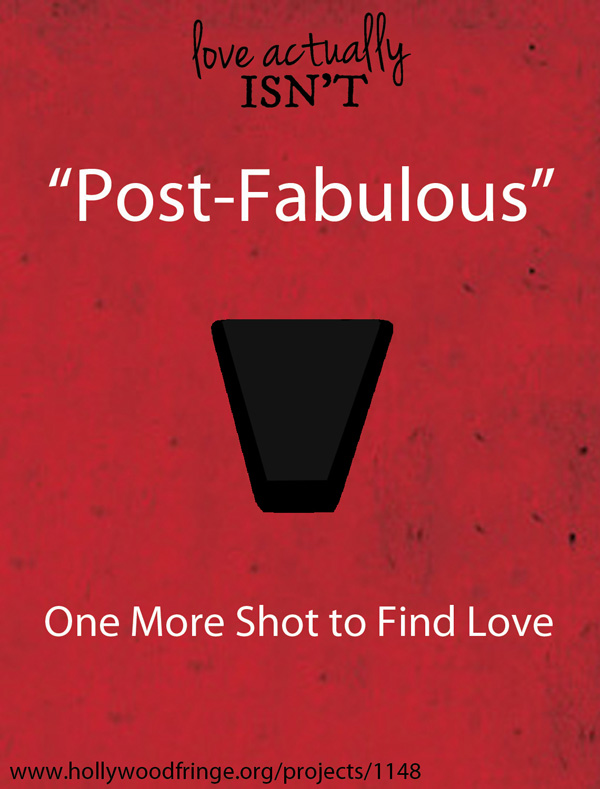 "Double Date," presents two strategies for moving on after a marriage. Melissa (Arturo) had been married for four years to Scott (Joe Souza). Unlike the story of Dani and her dearly departed, this one ends in divorce. Melissa does a courageous thing - she treats herself to a nice solo dinner at a posh restaurant. At the next table, of course, is Joe with his 23-year-old latest and greatest. The inevitable dirty laundry gets aired, which is really just mildly stained; and gives you pause to muse whether the differences were thatirreconcilable.
Featuring Dan Alemshah, Marcos Bueno, Pablo Marz, Craig Taggart, Shayan Ali, Alex Diehl, and Souza, "Post-Fabulous" tells the story of a quartet of single gay men who meet two young underage dudes at a club. It's not as much a story of veni, vidi, vici (I came, I saw, I conquered), which presumably would have happened two decades prior. Each man, instead, realizes something significant about the passage of time.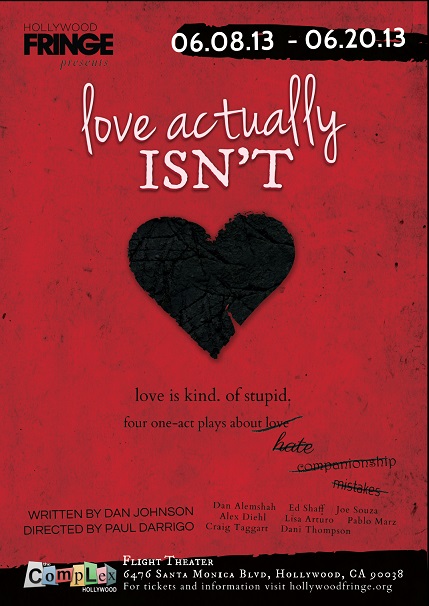 And, finally "Leftovers," presents widower Roy (Edmund L. Shaff) whose daughter has set him up with widow Pearl (Thompson). Both are at an age where loneliness would be a burden if it weren't for a mundane yet sacred daily practice. What could possibly make this relationship work? The Holy Bible? Try TV Guide.
Watch "Love Actually Isn't" for its incisive and realistic portrayals into love or, as Fats Waller would have described it, "And if that isn't love, it'll have to do until the real thing comes along," which is another way of saying that love actually isn't about coups de foudre than it is about the reasonable management of expectations. And then marvel at how the same force that is responsible for the building of the Taj Mahal is also part of the same force that informs the setting of the afternoon TV schedule.
Performances are 8:30, Thursday, June 13; 10:45, Saturday, June 15; 8:30pm, Sunday, June 16; and 7:15, Saturday, June 20. Tickets are $12. The Flight Theatre at The Complex is located at 6476 Santa Monica Boulevard, Hollywood. For tickets and information, visit www.hollywoodfringe.org/projects/1148.