Photos courtesy of Deb Robinsonk/SCR.
Wow.
Such is The Fantasticks, written by Tom Jones, with music by Harvey Schmidt, and directed by Amanda Dehnert for the Segerstrom Stage of South Coast Repertory. Wow for Dehnert's direction, Dennis Castellano's musical direction, and Eugene Lee's scenic design. Wow for the cast's ability to bring a sweet, bitter, and then mature love story to life.
It's a boy meets girl story. Luisa (Addi McDaniel), daughter of Bellomy (Scott Waara), lives next door to Matt (Anthony Carillo), son of Hucklebee (Gregory North). The fathers are gardeners. They bicker. One overwaters the vegetables. The other stomps on them. They build a Maginot Line fence between the properties, to keep the kids apart. The production's most endearing scenes occur as Luisa and Matt flirt through and over the fence, portrayed with elastic grace by The Mute (Nate Dendy).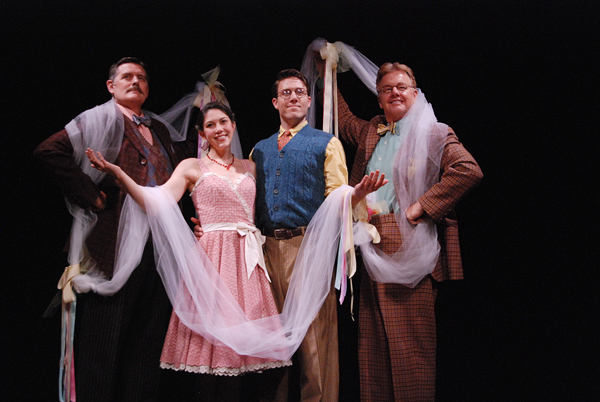 The romance may be real but the circumstances that created it aren't. Though there appears to be no love lost between them, the canny fathers staged the feud to bring their children together, believing that to say no is to encourage their offspring to do the opposite. Instead of letting nature then run its hormonal course, though, they try to advance the relationship to a next level, hiring Henry (Richard Doyle) and Mortimer (Hal Landon, Jr.), actors manqués, to stage Luisa's abduction so that Matt will rescue her. The scheme works, until the newlyweds realize their fathers' romantic chicanery. With bitterness and remorse they separate, each to explore the world beyond their now-fenceless backyard. The bemused fathers wish ("Plant a Radish") tending to children was a simple as tending to a garden. To their chagrin, Luisa and Matt learn the big bad world is not moonlit, rosy, and romantic. And that, folks, is where romance ends and love begins.
It's a story of orchestrated love, though you have to wonder if the outcome would have been the same without the fathers' meddling. The First Act is magical and uplifting — a perfect medley of songs, magic tricks, faux-dueling, and burgeoning romance. It's so darn charming you want the production could end there and then, all happy-ever-after. It doesn't. Before the marriage can take root, the lovers must endure a Second Act trial by fire.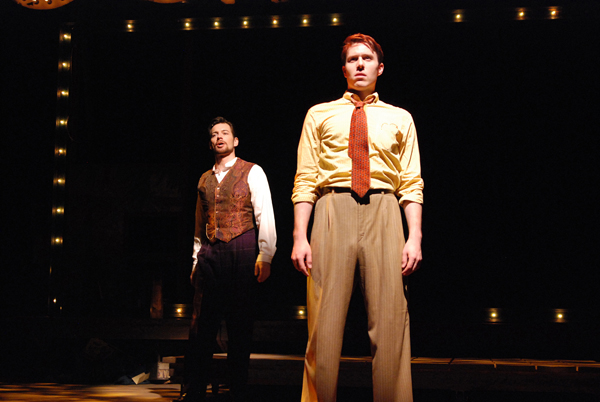 It's easy to see why The Fantasticks is the longest running production in the history of American theatre. It's equally easy to see why this is such a splendid production. 
The story is insanely funny. The songs, especially "Try to Remember," are memorable. The characters are nicely played one off of the other. And, though it's giddy and sweet, it shows how love must be earned.
The performances were excellent. McDaniel's Luisa personified innocence and enchantment, qualities that set her up for her descent into the world of unscrupulous men. Likewise with Carillo's Matt, whose endearingly gawkiness didn't prepare him for, to quote another musical "things beyond his ken."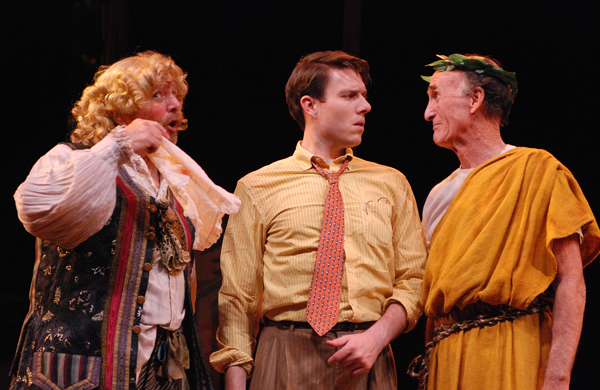 North's Hucklebee was the perfect foil to Waara's Bellomy. The former bombastically invested himself in the nurturing of his vegetable garden, while the latter fussily ensured that his was properly watered.
Doyle's Henry was energetically hammy, reliving (or recasting) the successful (or not) stage career of his youth. Landon's Mortimer was hilariously lugubrious, doing one thing — dramatic death throes — very well, the rest of the time lurching about like, well, the Addams Family's Lurch in Indian garb.
A cross between Harpo Marx and Marcel Marceau, Dendy's splendid Mute was not just a conjuror of magic tricks, he was a one-man prop department, serving as the fence (you have to see it to believe it) between the two properties and somehow keeping an endless supply of fan-blown snow cascading through the air. Ojeda's El Gallo was eloquent and Clark Gable worldly, a dastardly wooer of Second Act Luisa.
The production gallops along, from the first lovely and magical intimations of romance, to a wedding that seems to represent the success of the fathers' scheme, to a union that goes sideways and disintegrates into separate odysseys. The result is a mature relationship, embodied in the song "Try To Remember," leavened by hardship, perhaps not as tipsy toes sweet as it was at the beginning but definitely more stable, more enduring.
Performances are 7:30pm, Tuesday, Wednesday, and Sunday; 8pm, Thursday, Friday, and Saturday; and 2:30, Saturday and Sunday. There is no evening performance on Sunday, June 9. The show runs until June 9. Tickets are $23 - $63. The Theatre is located at 655 Town Center Drive, Costa Mesa, 92626. For more information, call (714) 708-5555 or visit www.scr.org.