Photos courtesy of Mickey Elliot.
Fred Astaire once crooned about "the bumpy road to love" which, in relationship matters, is the alternate route to love-at-first-sight. It's not the way these things begin, it's not the day-by-day messes and misunderstandings that need to be cleaned up, it's the long-term result that counts, right? If you want to see the ups and downs, the joys and despairs, the false starts and back-on-tracks of a relationship that endures, hie thee to Little Fish Theatre's moving, well-enacted production of Victor L. Cahn's production of "Embraceable Me," directed by Ryanne Laratonda.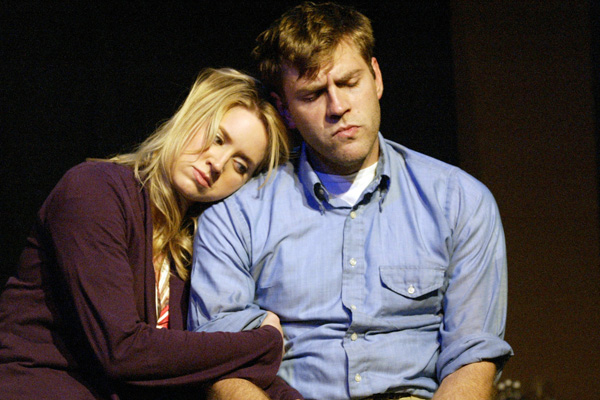 Beginning at a critical juncture ("I'm engaged to someone else") in the relationship between Allison (Lydia Medeiros) and Edward (Victor Holstein), the production goes back in time to chart their sweet-enough but unglamorous meeting, a notable first kiss, an equally notable dirty holiday in a cabin, through the vicissitudes of careers, the dating-of-others, and lonely existences in separate cities, to a breathtaking conclusion in which the two protagonists finally really realize what we've known all along - they're bloody well meant for each other.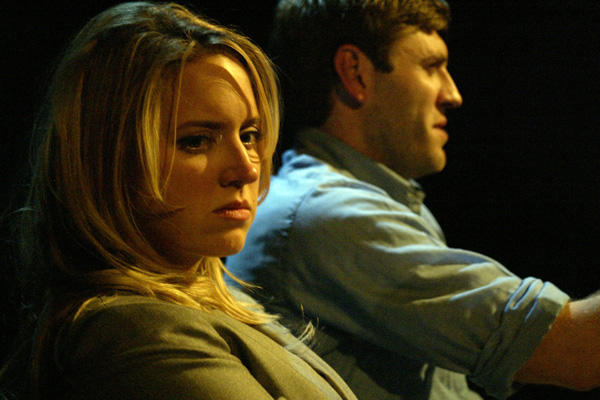 The set is minimal and there's no intermission, all the better to focus on the pitter-pat, rapid-paced, non-stop dialogue, leavened by occasional asides to the audience. It's these asides to the audience that are particularly endearing. We're the confidants, the flies on the wall, and the keeper of secrets.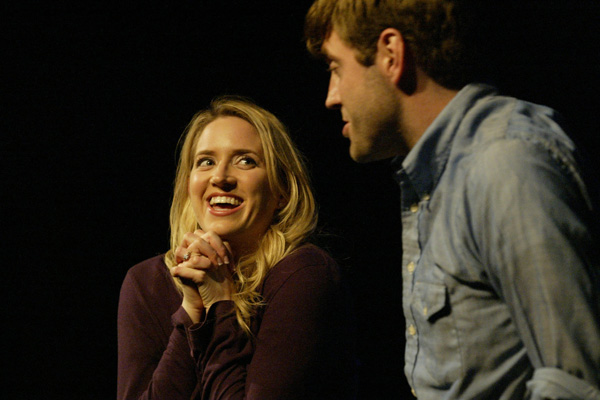 From their first words uttered, Medeiros and Holstein perfectly capture, not just their respective characters (she, breezy, enthusiastic, he, reserved, stable), but also the thing that made them perfect for each other: she uplifted him, he anchored her. There are times when he is on the verge of becoming a hermit, a tendency she quickly slaughters with spontaneous (and sometimes sober) explosions of mirth. And there are times when she's about to spin off the stage with a manic work ethic and utter job dissatisfaction, malaises he relieves with normalcy and consistency. His desk is geometrically tidy, her bedroom is an organic mess. She speaks in gushes, he provides a background hush, she sprawls over furniture (and him), he's rectilinear, a perfect means of physical not to mention emotional support. In brief, the casting was inspired; the actors' timing was perfect; and their sense of connection, even in the middle of frequent and sometimes funny firefights, was genuine and convincing.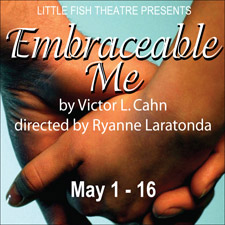 The script nails the way they complete each other with the real-life and metaphorical task he dutifully performs throughout the entire production. He edits her articles and by extension, her life. She gives him purpose, he gives her sanctuary. And really, really, isn't that the means to the end of a relationship-that-lasts, two people, each with flaws and idiosyncrasies, melding into a functioning and embraceable whole?
Performances are 8pm, Wednesday & Thursday (May 15 & 16), 8pm, Friday, May 10th, 8pm, Saturday, May 11, and 2pm, Sunday. The show runs until May 16. Tickets are $20 - $27. The Theatre is located at 777 Centre Street, San Pedro, 90731. 
For more information, call (310) 512-6030 or visit www.littlefishtheatre.org.