The extraordinary thing about Noel Coward's Present Laughter, directed by James Rice for Little Fish Theatre, is not the spot-on casting and perky direction that brings Coward's outlandish story of an actor's midlife crisis to life. No, it's the chemistry between the actors.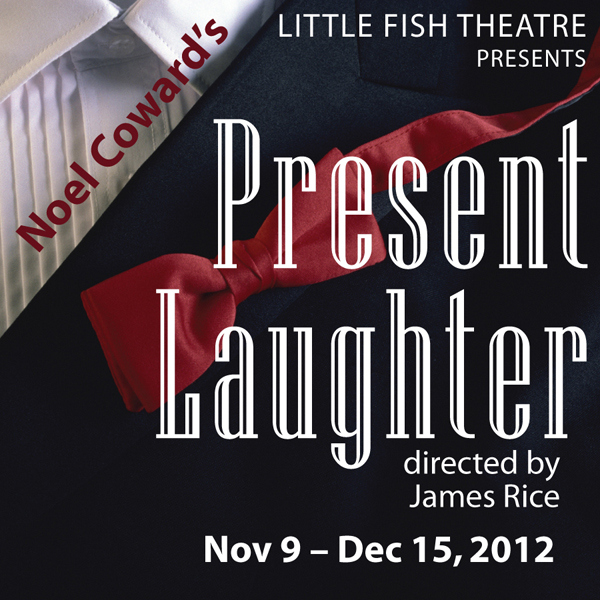 Of course, the production's hilarious — the way a flamboyant and pampered British stage actor, Garry Essendine (Noah Wagner), prepares to depart for Africa both to perform as well as to escape the palace, intrigues that hamstring in him, but amuses us. Beyond the story, though, the unusually keen performances cut to the heart of theater, namely the ability of words to connect us to the characters and to each other through the telling of a story. Of course, it helps that Coward set the story in pre-digital 1939 London, so it was no-tech and, to us nowadays, refreshing. Usually, we're flies on the wall, watching scenes unfold. Here, though, gorging on old-school social media, we shared a communion.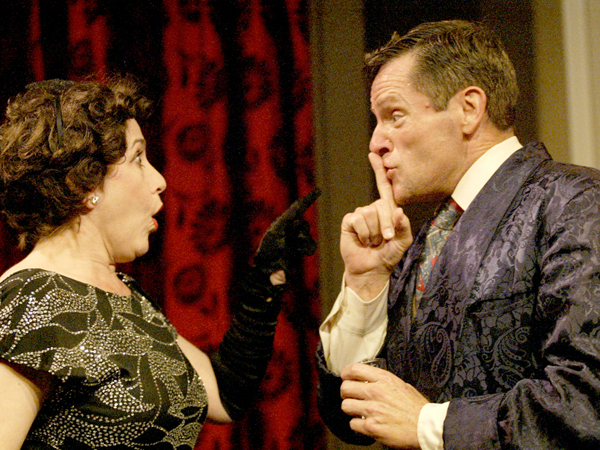 It's the story of an artist's life. The story, though, is not as orderly as the Strauss waltz by the same name. The plot's taut and witty, its enactment farcical. It proves, yet again, that the best laid plans of mice and men go astray. A lot of things happen, but with Coward's lapidary dialogue the time whizzes by. It's nicely set up. Garry has a goal (departure), a deadline (soon) and all manner of complications romantic and professional to thwart that departure. In brief, Garry's task is to pack his bags to go while he leaves his emotional baggage behind.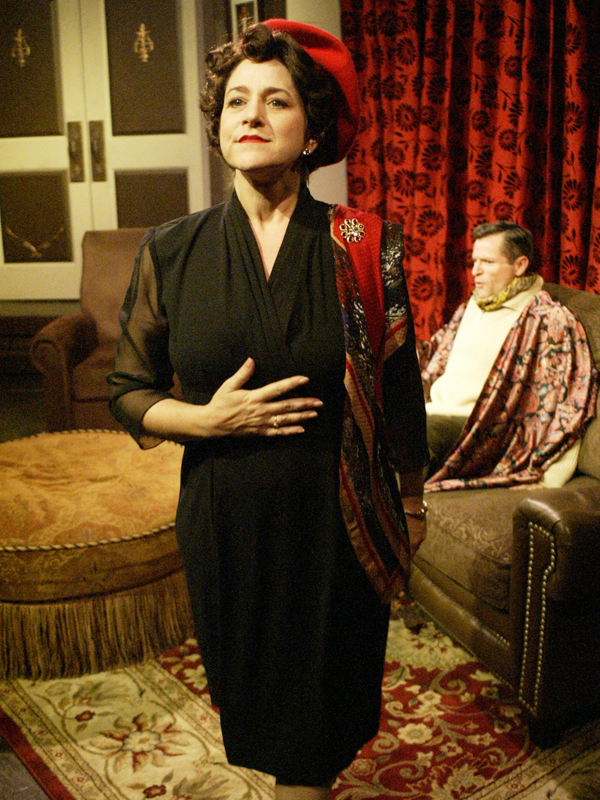 Speaking of baggage, Garry's a mess. About to turn 40, he's having a midlife crisis — though you couldn't tell from his flamboyant and luxurious lifestyle. He's still married to Liz (Amanda Karr), though they separated years before. Morris Dixon (Greg Wickes), Garry's manager, is having an affair with Joanna Lyppiatt (Kimberly Patterson), the wife of Hugo (Rice), his producer. Daphne Stillington (Genevieve Taricco), niece of Lady Saltburn (Tracey Wiltse), loses her key one night at a party at Garry's and so sleeps in the guest room. He had promised the Lady that he would give the niece an audition. Garry promises Roland Maule (Andrew Nowak), at first glance an innocent though increasingly maniacal young playwright, that he'll critique his play. Reminiscent of Daphne's ploy, Joanna pretends to lose her key and makes a play for Garry. Liz, still in love with her husband, heads the romantic interloper off at the pass, in a scene reminiscent of that iconic photo in which Sophia Loren takes a sideways glance at the ebullient and, um, fulsome Jayne Mansfield. All this is monitored with ho-hum resignation by Team Garry: Monica Reed (Shirley Hatton), his secretary; Fred (Wickes), his valet; and Miss Erikson (Wiltse), his maid.
Wagner shines as a well-meaning, lovable spread-too-thin actor who thrives in fluid situations. In brief, he just can't say no. We could despise him for his peacock vanity and breezy, privileged lifestyle, except that his scrapes with morality are more inadvertent than purposeful. He has a heart. With those posh robes and Hugh Hefner swagger, you can easily imagine him commanding a stage, the only difference being that on stage he has a script, whereas in real life he just wings it, to humorous effect. Garry's long-suffering staff, Hatton, Wickes and, especially, Wiltse, nicely wear the scars of their service to their quixotic master, while Taricco and Nowak show the kind of adulation that makes film actors today fear the likes of TMZ. Karr and Patterson exude Rita Hayworth's glamour and sophistication and Myrna Loy's wit, though Karr's Liz has Garry's back while Patterson's Joanna is more interested in his, um, front.
A sustained, delightful and genteel match of verbal badminton, Present Laughter elicits laughter that is both abundantly present and, yes, splendidly accounted for.
Performances are 8 p.m., Friday and Saturday; 2 p.m., Sunday, December 2; 7 p.m., Sunday, December 9; and 8 p.m., Thursday, December 13. No shows on November 23 and 24. The play runs until December 15. The Theater is located at 777 Centre Street, San Pedro. For more information, call (310) 512-6030 or visit www.littlefishtheatre.org.