In the Found Theatre's "The Last Call Lounge," written by the cast and directed by Virginia DeMoss, a gas station located in Last Call, Nevada (on the road to Polygamy, Utah) may run out of gas but the production doesn't.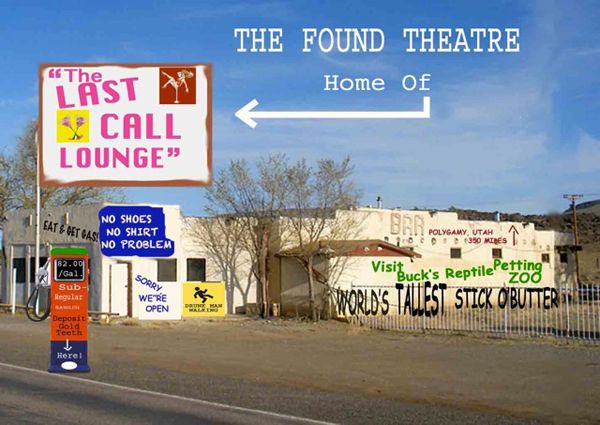 For the discriminating whistle stop guests, there's a reptile petting zoo and the world's largest stick of butter. The place is run by Buck (John Sturgeon) and Wanda (DeMoss) Breedlove. They have a daughter, Chastity Sue (Monique Hilliard), who sulks when she can't do her Lady Gaga act up on stage. Lana (Joyce Hackett) the waitress serves us - what else? - Chex Mix. Buck forgets to order gas and so the lounge piles up with people waiting for the gas truck to arrive. When a bus of performers pulls in, the result is a mixed match (mixed being the operative word) of Canterbury pilgrims performing their various shticks.
To kill time, if not each other, the guests perform. But, this being the Found, there's no curtain or Fourth Wall. Things begin before you walk in (In media res seems too posh here). Before you walk in the front door, you're asked to hula hoop. Sure, why not? There's a pregnant bride smoking a cigarette. Oh, you poor dear. Someone asks if you want your eyelashes curled. Um, no thank you. It doesn't feel like theatre; it's more like you walked in off of the dodgy part of Long Beach Boulevard on a Saturday night and, whether or not there was a performance scheduled, the characters would be doing the exact same thing. A musical equivalent would be Leonard Cohen, "Closing Time."
The performances, well, they're to die for. Paula Jean (not Dean) (Kay Richey) does a cooking demonstration, calories and cholesterol be damned. Of course she makes short order of that Stonehenge of a butter stick. "Lordy" Lovejoy (Lauren Nave) sings a hilarious gospel song. Made up like Tammy Fae Baker, she has an unusually intimate relationship with Jesus, who sits next to her in an empty chair (Think Clint East at the recent Republican convention). In mid-yodel, a pair of sisters Olga (Maureen Swaffield) and Helga (Nanci Anderson), get into a slap fight and continue to bicker for the rest of the evening. Birdy (Beverly Shields) channels Liza Minelli (channel's the proper word; her singing's too good to say she merely imitates) with a song that protests how her mother didn't get the 1955 Best Actress Oscar that went instead to Grace Kelly. Frank (Sturgeon) and Nancy (Richey) Sinatra sing "Something Stupid," made even more creepy by Frank's arthritic, lock-kneed, bug-eyed zombie performance. There's Bob Dylagain (Ron Grigsby), who claims Bob Dylan ripped off his songs. And, best of all, there's Ronny West (Grigsby) and Dottie Wells (Jennifer Moraca), a divorced country western duo who are strapped for cash and so must reluctantly hit the road together. Their song includes the memorable refrain, "There's lipstick on your butt and it's not mine."
Before reality TV and Jerry Springer, there was the Found Theatre. Since 1974 the company has served up theatrical fare that is sometimes topical, always weird, holding a mirror to our unscripted, first-thing-out-of-bed lives. Messy and inventive, scripted to be uncouth and spontaneous, it portrays unaffected people doing outrageous things. As it does here. At the end, Chastity Sue finally gets to do her Lady Gaga piece. The song? "Poker Face," something no one in the audience could hold that night.
Performances are 8:30pm, Friday & Saturday. The show runs until September 29. Tickets are $15. The Theatre is located at 599 Long Beach Boulevard. For information call (562) 433-3363 or visit www.foundtheatre.org.