Written by and featuring Jann Karam, directed by Sabrina Lloyd, and given its world premiere at the Lillian Theatre, Reclining Nude on La Cienaga doesn't fulfill its comic promise. Set in an artist studio strewn with drop clothes, butcher's paper, paint containers and brushes, its lively and effusive character uses words and painted images to describe her quest to start an artist's colony. Halfway through, though, the story loses and never regains momentum. By Karam's own admission, her life's a work in progress. So too is this production. It merits your patronage, but just barely.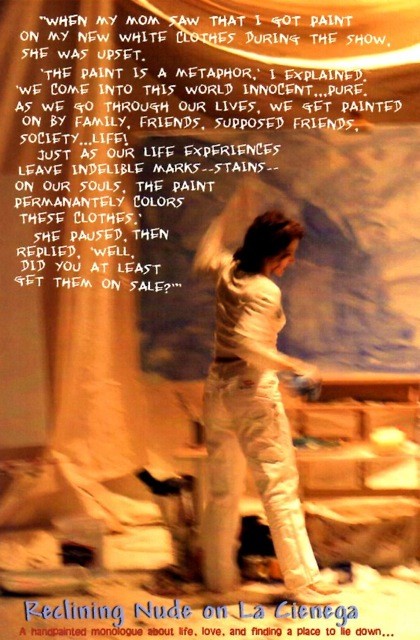 There are many reasons to see the production. Most of them result from the expansive personality of Karam herself, not the story she's crafts and tries to enact. She's hip, charismatic, and cool. She combines confidence and trepidation. When she addresses the audience, you feel as if she's speaking to no one but you. You'd love to have her as a best friend, a drinking buddy, or a confidante. She'd be a delight to have as a companion on a cross-country trip. The stories she paints of her family and relationships resonate in our own desire to forge safe havens and creative sanctuaries.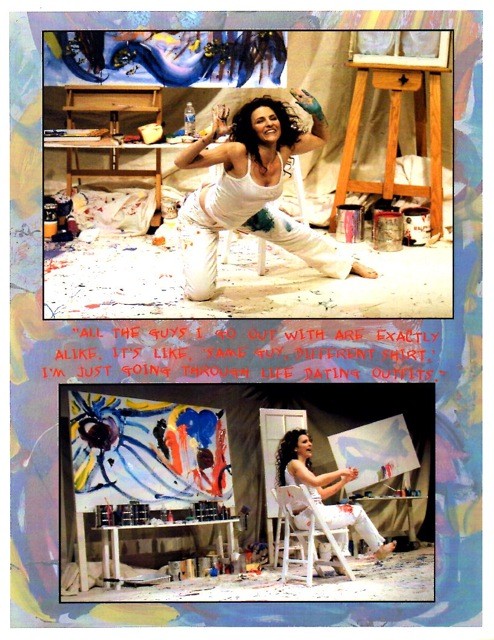 See it at least for the premise the title promises. The "nude" of the title that refers to artists models — she's the artist and the model — as well as to the way she bares her soul. See it for the way she composes and elaborates to great effect her metaphor of the portrait-of-the-artist-as-a-young-woman. See it for the way that she wields her brushes like quixotic swords, as she parries and thrusts her way through her childhood, through an eleven-year relationship, to her final resting place on La Cienaga. See it for the way she combines the act of painting with the exposition of words, where gestures are given an added dimension with color, line, and shape. The acrylic paintings she creates, as she layers, textures, and edits her experiences on the canvases strewn about her studio, are surprisingly good. It would be interesting to collect and display the pieces she creates for each performance. The exhibit would serve as a visual diary, a permanent record of her excursion.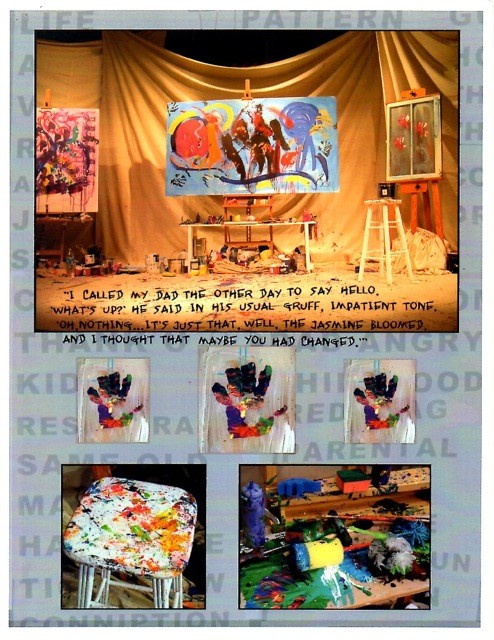 But all this good will is squandered. Early on she flubs a couple of lines. She recovers nicely and not a little humorously. Twice she consults a list of what comes next. That can be explained, without much loss of narrative thrust, by the context of an exuberant, artistic soul struggling to frame her identity. Towards the middle, though, the production drifts and drags. It feels like the unaccounted and unremembered time of a blackout. Though she maintains her bravura and composure throughout the story, the ending was anti-climactic, to say the least. The clock confirms the drift and drag. Though it was scheduled for 85 intermissionless minutes, give or take, the production lasted for two long hours. That's too much extra, unexpected time that was long on humorous flow but short on meaningful content.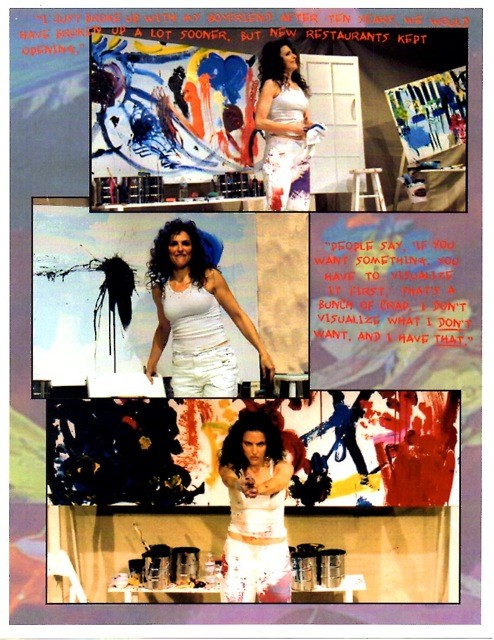 Performances are 8pm, Friday & Saturday, 3pm, Sunday. The show runs until October 7. Tickets are $15. The Theatre is located at 1076 Lillian Way. For more information call (310) 960-7792 or visit www.plays411.com/recliningnude.