Photos by Henry DiRocco/SCR.
A perfect embodiment of Murphy's Law, Alan Ayckbourn's nimbly paced, exquisitely staged, and well acted "Absurd Personal Singular," directed by David Emmes for South Coast Repertory's Segerstrom Stage, mines the comic potential to be found in three couples, Sidney (JD Cullum) and Jane (Kathleen Early), Geoffrey (Alan Smyth) and Eva (Tessa Auberjonois), Ronald (Robert Curtis Brown) and Marion (Colette Kilroy), who together celebrate/commiserate three consecutive Christmases.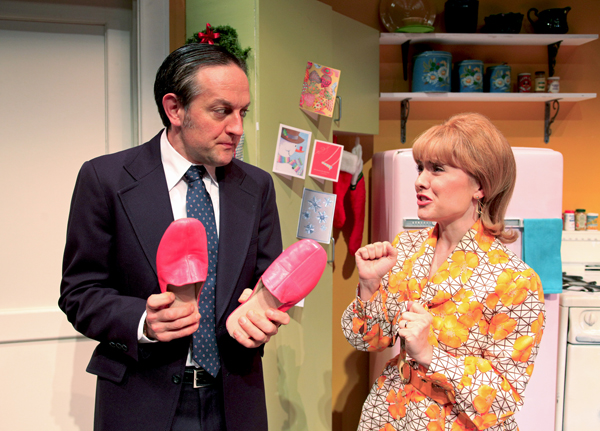 Set in the couples' three kitchens (suburban, bohemian, and posh), the story nicely flows from act to act, charting the couples' financial, social, and emotional fortunes as they rise and wane from year to year. Act One is a butter-up-the-banker-for-a-loan party. That tanks, epically. Act Two is a hasty, poorly arranged affair that would require an intervention except all the characters, except the one attempting to kill herself, are too busy cleaning the place. Act Three also would warrant an intervention except, of course, a drinking game erupts, to the delight of the person who least should play. "It's A Wonderful Life"? Hardly.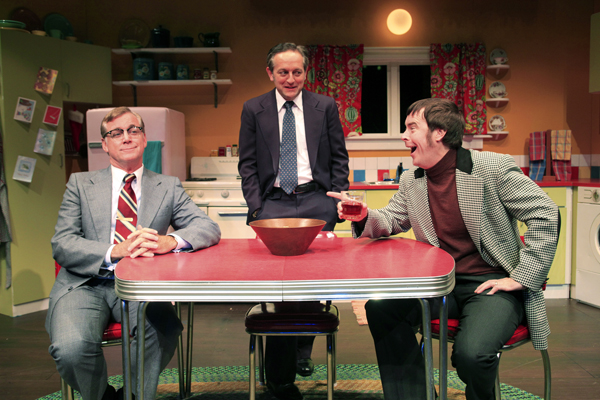 The characters are adorable, affable, and well meaning. They're also psychotic, smarmy, and bitter. Their personalities are established in Act I, in Sidney's and Jane's kitchen. Cullum's Sidney is a disciplinarian of the military sort. He's upbeat and ambitious. He's got a plan; he seems organized. His voice is stentorian, his manner authoritative. He's perfectly matched with Early's aide-de-camp Jane, who's a perfectionist (a dabber of smudges) but, unfortunately, forgets to buy tonic water, forgets to put on her party shoes, and locks herself outside in the rain. Comic mayhem ensues. Likewise with Brown's distinguished, above-the-fray Ronald and Kilroy's haughty and entitled Marion (think Jessica Walter's Lucille Bluth in "Arrested Development"), neither of whom will suffer fools gladly. Not as judgmental and prickly as his wife, who wants to leave after five minutes, he seems delightfully oblivious to what's going on around him. And finally with Smyth's tousled and breezy cad, Geoffrey, who drops peanuts on the ground to look up women's dresses and Auberjonois's world-weary, sexily languorous, and most-likely-to-kill-herself Eva.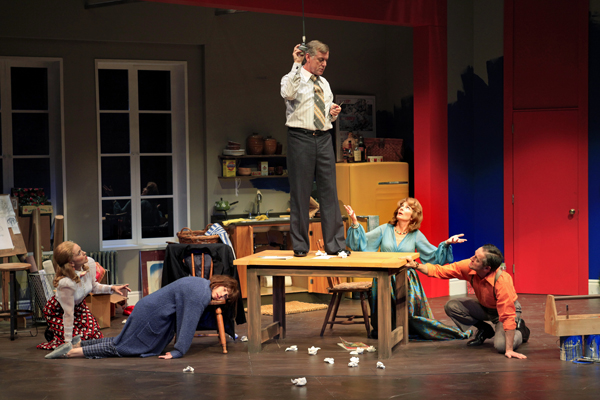 As fun as it is to get to know the characters in Act I, it's magical to watch them transform in the subsequent two acts. By Act II, Cullum and Early have done well business wise, and so comport themselves with, if not more gravity, then as least assurance and poise. Meanwhile, Auberjonois's Eva, having hit rock bottom, enacts one the funniest imaginable cries for help. She tries to kill herself by sticking her head in her oven. Does anyone tend to her? No, the incident incites Jane to clean the oven. To watch Eva Buster Keatonly try to take her life (poison, electrocution, hanging, gas) while the others potter about is one of the funniest theatrical moments I've ever seen. Finally, by Act III, Auberjonois's Eva recovers her edgy sanity but Kilroy's once haughty, imperious Marion hits the skids alcoholically, a tragedy to her but for us a comic treasure.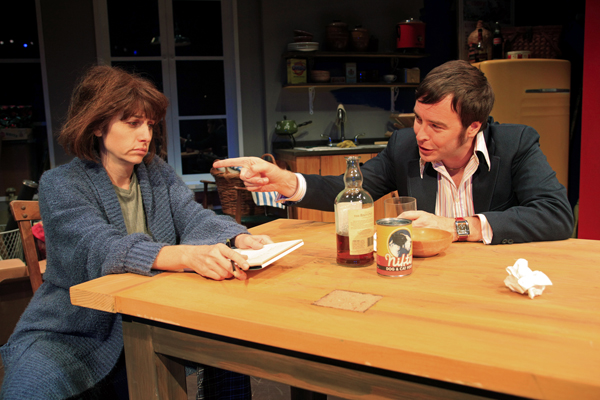 Though there's no clear resolution (it makes you ache to see what would happen on a fourth Christmas together), the production offers an evening of unbounded hilarity and extraordinary physical comedy (the non-verbal parts are the funniest bits of all), not to mention the caveat to be nice to people on the way up because you're likely to see them on the way down.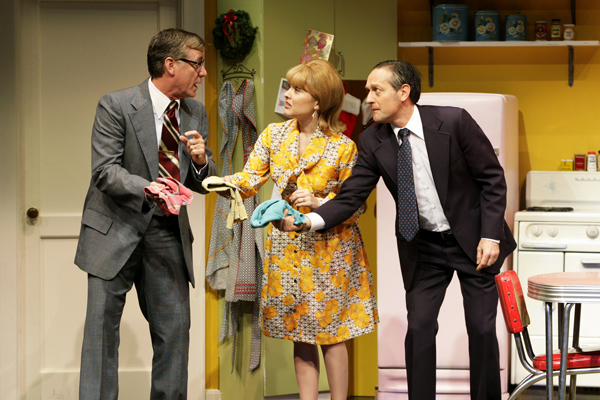 Performances are 7:30pm, Tuesday & Wednesday, 8pm, Thursday & Friday, and 7:30pm, Saturday & Sunday. The show runs until October 7. Tickets are $20 - $70. The Theatre is located at 655 Town Center Drive, Costa Mesa. For more information call (714) 708-5555 or visit www.scr.org.