Making a hilarious rout of first dates and therapy, Christopher Durang's Beyond Therapy, directed by Don Schlossman for Little Fish Theatre, tells the story of how Bruce (Olev Aleksander) and Prudence (Meredith M. Sweeney) try to connect via a personal ad in the paper (this in New York, 1981 — no eHarmony, Match.com or, God help us, Craigslist). Like anyone else, they want a meaningful relationship. The problem is, as this production nicely shows, it's impossible to have a meaningful relationship when everything around them is void of meaning.
The reason their lives are void of meaning is because they're in therapy. It's not the therapy itself that causes the problems; it's their respective therapists. Prudence has been seduced by Stuart (Christopher Violette), a smarmy, small-minded and infatuated scoundrel. She's understandably shy if not dysfunctional when she tries to date. Bruce has fallen under the thrall of Charlotte (Madeleine Drake), a larger-than-life force of nature who has a too-intimate relationship with her Snoopy doll and espouses a treatment that consists in saying "yes" to everything. Bruce, as a result, sees no problem with trying to date Prudence even while he's been living as a bisexual for a year with Bob (Jason Mack). And Prudence, caught in a miasma of feelings for Bruce, her inability to articulate her needs, and the desire to flee his quixotic nonsense, equivocates.
The production carries us along because we care for these delightfully flawed characters. Initially we feel sorry for Bruce and Prudence. He weeps too easily, she's confused about what she wants. They try to connect, as we all do. It doesn't work — that happens. But instead of moving on, they have another go, after Bruce re-does his personal ad profile. (Really, Bruce, a Pulitzer Prize?) Again it goes south. Do they let it go? Nope. Their therapy has prevented them from seeing beyond themselves, beyond therapy, and so they keep repeating their mistakes, to our endless delight.
The performances are top-notch. Aleksander's Bruce is sincere, decent and mawkishly charmingl but also clueless, eggshell fragile and without a shred of empathy. It's easy to see why women would red flag him. Sweeney's Prudence is sweet like Aleksander's Bruce, sincere, adorable and nubile, but thrown back on her heels man-wise after being seduced by her therapist. No doubt as to why she's reluctant to need the red flag. As with parenting, the fruit doesn't fall far from the tree. You get the sense that both are perfectly sensible people looking for love until you see over time how their personalities have to a large extent been formed by their relationship (professional and otherwise) with their therapists.
Though they share a similar disregard for personal/professional boundaries, Violette's Bob and Drake's Charlotte are perfect foils for each other. He is tightly wound and vindictive while Drake's Charlotte is breezy and effusive.
By the end you wonder how relationships are even possible in the first place as well as whether there is any therapeutic value in therapy. Making a mockery of the Hippocratic Oath's stricture to Do No Harm, the production shows how patients and, yes, therapists are hardwired for frailty. To think otherwise is, well, nuts.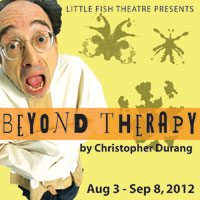 Performances are 8 p.m., Friday and Saturday, 2 p.m. and 7 p.m., Sunday, August 26. The show runs until September 8. Tickets are $25 ($23 student/senior). The theatre is located at 777 Centre Street, San Pedro. For more information call (310) 512-6030 or visit www.littlefishtheatre.org.