Photo credit: Tracy Woodward
"An Incident at the Border," written by Kieran Lynn and directed by Tracy Woodward, marks the inaugural production of the Transatlantic Theatre Company. It's an auspicious beginning, this topical tale of boundaries, legal if not absurd, the reactions they elicit, and the chain reactions they make possible. It entertains but it also lays bare the choices we make on a daily basis with respect to all manner of man-made borders, be they social or personal, political or romantic.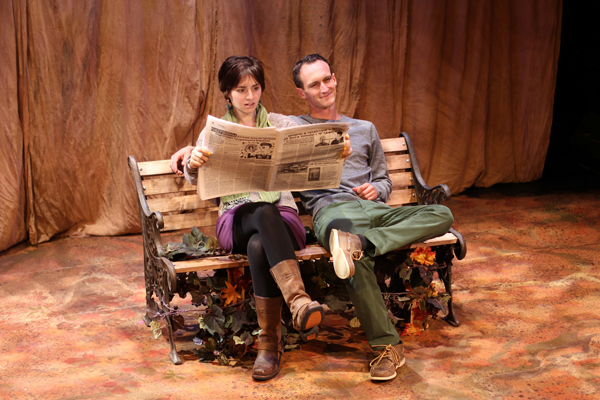 The story begins on a fall day. A couple spends a romantic afternoon on a park bench. If opposites attract then Olivia (Jennifer Robyn Jacobs) and Arthur (Hank Ostendorf) are made for each other. She aches for a cause, something to commit to. She wants to make a difference. He just wants to be a duck, treading along, water (and life) rolling off his back. Careful what you wish for, Olivia, because out of nowhere Reiver (Christopher Frontiero), a bottom of the food chain bureaucrat, bisects their bench with tape, declaring the country's borders have been legally changed. His only mandate appears to be a boss who has a boss who has a boss. Though inches apart, Olivia and Arthur now find themselves in different countries. Suddenly Olivia has her cause, Arthur gets yanked out of his comfort zone, and we have a ton of laughs as well as a cautionary tale about the way borders are not just arbitrary (Just look at the shape of Colorado on a map), they force us to choose sides as well. As the story unfolds you understand how the very nature of borders impacts identity, freedom, and, yes, love.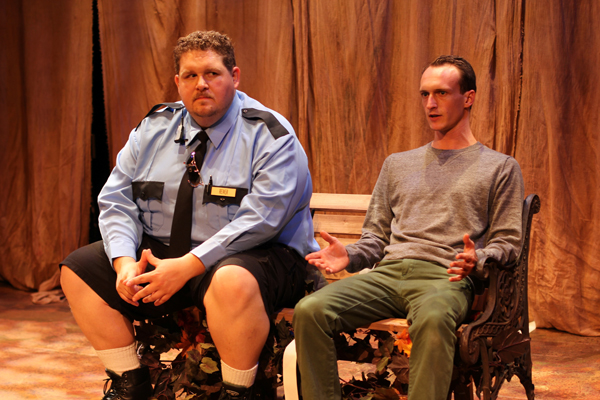 Conceived as a powerful one-act story, the production combines a scrumptious plot premise reminiscent of Jose Saramago's novels (In one, the Iberian peninsula breaks off from Europe; in another, Death takes a holiday and no one dies) and the subsequent floundering of its Kafkaesque characters. (Why was that border-tape put there, at that particular moment, and for what purpose?). It's a humorous production. We laugh at the irrational rashness of the border's imposition, the absurdity of bureaucratic procedure (Too bad, symbolically, the tape itself wasn't red), and the range of the characters' reactions.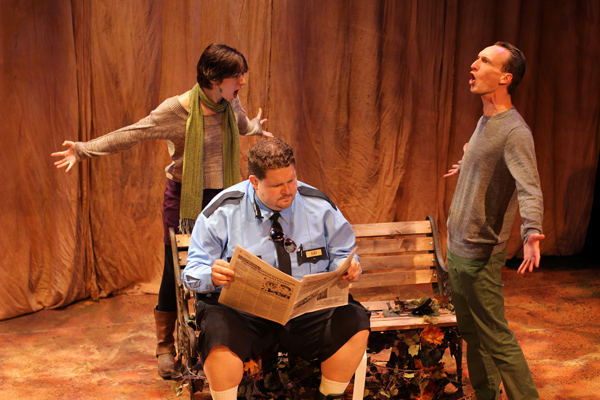 Though humorous, the story's ramifications are all too real. After delightfully exasperated inquires as to Why, Who, and What prove useless, Olivia and Arthur try to deal with the border itself. Legally Arthur now needs a passport to join Olivia. She questions his commitment to her (Imagine this as Jerry Springer segment). Things escalate. The border skirmish threatens to escalate to war.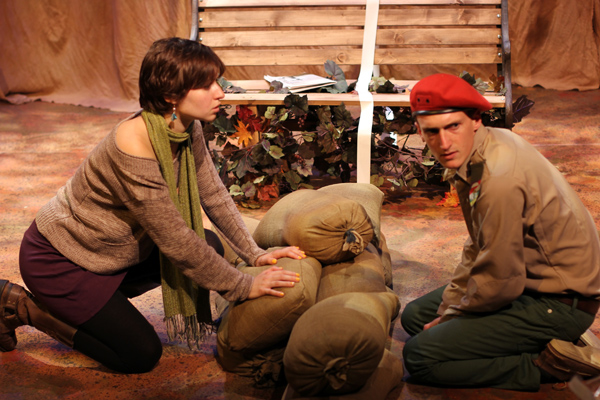 The performances are taut, focused, and explosive. Jacobs' Olivia is feisty and spirited, spoiling for a cause. Her voice and gestures, especially when she's indignant, are emphatic and direct. She's a bundle of energy looking for an outlet. She's perfectly paired with Ostendorf's adagio Arthur. He's complacent and mellow, verging on the slacker. Her response to the sudden border is immediate and vociferous; he pick up steam at the end. To watch him become a man of action is a thing to behold. Their relationship over the course of the production runs the gamut of commitment, from shared feelings, to doubt, to battle lines being drawn. Mediating this romantic dispute is Frontiero's Reiver, a lumbering, diligent foot soldier, following orders without a thought as to question them. Note as to Reiver: a clever name, his: Raiders along the Anglo-Scottish border between the 12th and 16th centuries were called border reavers.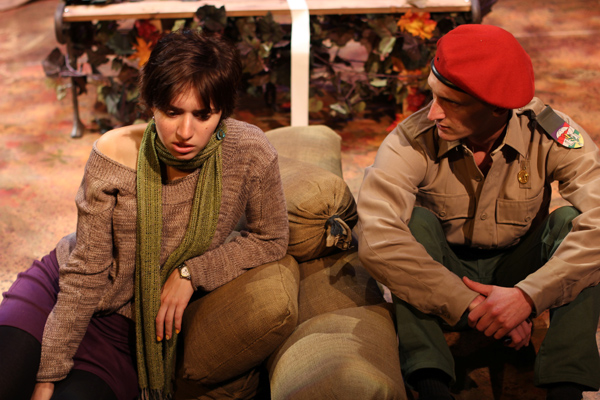 Performances are 8pm, Friday & Saturday, 7:30pm, Sunday. The play runs until September 9. Tickets are $25. The theatre is located at 2437 Main Street, Santa Monica. For more information visit www.edgemarcenter.org.